SOLID STATE MEMORY PLAYER

BLACKNOTE
DSS 30 TUBE

WOJCIECH PACUŁA
Translation: Krzysztof Kalinkowski




Network player (flash memory player, server, or whatever this category should be called) is something relatively (compared to the over one hundred years of vinyl history or almost thirty years of the Compact Disc) in the hi-fi landscape. During the month of listening to the network player DSS 30 Tube (Digital Static Source) from the Italian company Blacknote, I probably went through all the steps of domestication of this new technology, something that (unfortunately) each audiophile, used to physical carriers like the LP, CD, SACD, DVD-A or reel tape, will have to go through. Players like the DSS force us to revise many of the subconsciously coded habits, rituals and practices.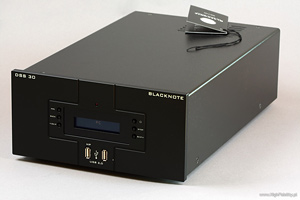 It turned out, that in last few years we wrote many times about products related to music files, like for example at the occasion of the DAC Wavelength Brick, and in this issue you will find a test of the Majik DS player from Linn (HERE), a company who conceived this type of devices and is also made them popular.
The first time I had an opportunity to listen to audio files was with a player from that company (Klimax DS – 'DS' stands for 'Digital Stream [Player]') during the High End 2008 in Munich (reportage HERE). Although earlier, here and there, I took part in similar demonstrations, that was the first time it had sense, and the comparison was well prepared. That what I heard was alarming: Klimax DS sounded better than Linn's icon, the beloved Sondek CD12 from that company. And this with files 16/44.1, CDs transferred to an external hard disk. With 24/96 files from the Klimax compared to the Unidisk 1.1 playing SACD the advantage of the first one was even more apparent. And coming from the Klimax to CD12 and comparing FLAC files 24/96 was even more shocking. I think, that this experience was the moment, when I started to think vigorously about this problem, and when the re-configuration started of my thinking about music, in a way of speech.
It happened, that on the same show, I had the opportunity to talk to a representative of another company, which presented a device very similar to Linn's DS player, and in some aspects even more interesting. Maurizio Aterini, this is the man I am talking about, is the owner and one of the main designers of Blacknote. And Blacknote is a "child" company of Bluenote (we tested the player Mini Koala HERE). The latter changed its name last year to Goldenote (probably due to the ownership issues of the name Blue Note). But Blacknote is a completely new venture for Maurizio, and, at least it seems so to me, the most important one for him now.
Because I prepared an interview for "Audio", I asked him many questions, and now, I will recall two of them.
Maurizio Aterini, Blue Note, owner and main designer
Italy

Wojciech Pacuła: Bluenote, Goldenote or Blacknote – what company we are talking about, as I see three logos?

Maurizio Aterini: [laughs] All of them. The company registered name is Bluenote, but we discerned three brands among it. We distinguished them, because we wanted to differentiate between various types of products – analog sources and amplifiers (Bluenote), digital sources and amplifiers (Goldenote) and new technology related (Blacknote).

(…)

Do you think, that uncompressed audio files with high definition are a significant part of audio?

MA: Without any doubt. I do not have any doubts about that – this is the future. I am 100% convinced, that this is where stereo and video are going. I do not believe in the future of multichannel sound. At my home I use a stereo system, where a DVD player and a plasma is connected to. And the movies are watched in stereo. Everybody thinks, that I own a brilliant multichannel system, and it is only stereo. This is my opinion. We started as an analog company. I am an engineer in precision mechanics, and I was always closer to the analog devices, equipped in mechanics, like turntables. But the world is changing. Now we can propose a device, like this converter, with WiFi, USB, etc, designed to work with PCs and servers. Three or four years back, that would still not be possible. But the major companies prepared a platform we can use to develop our technologies and bring music to music lovers, audiophiles and young people. The young people just want to play their music by USB or iPod. They do not want to play with turntables, etc. The CD is already dead, at least in that group of people. And everything we do in Blacknote is for them.


The brand Blacknote was excluded from the previous line of devices proposed by the Italians, because it is a jump into the 21st century, and cannot be placed in one line with turntables and amplifiers, at least mentally. Its lineage is partially classic, we find there for example CD and SACD players, the CDP-300 and SACD-300. But I think, that those, although fantastically made and beautifully sounding, are just a dead end; because those represent the past, what seems an anachronism in this brand. Because the spine of it are the memory players: the now available DSS 30 with solid state output and the DSS 30 Tube, with a tube one, and the DSS 15 or 35 being prepared for the market.
The most important question one must ask himself during a test of such a device is: "What is it?" The "simple" answer: "It is a file player, playing files from solid state memory or hard disk (this is a kind of solid state memory, albeit with mechanical parts)." Sounds simple, but it changes the way recordings are approached. With physical carriers some of the work, which we now must do ourselves, was done by the publisher. The publishing company placed the pieces in a certain order, placed those on a disc, and the only thing left for us to do was to press "play". With network players, the role of the listener starts earlier. We need to rip our CDs to a HDD, group the recordings in folders and give them names. Only material prepared that way can be transferred to the portable hard disk or pendrive, that we plug into the USB port of the player. DSS30 is equipped in four such ports, as this is an "open" device system, supporting many interfaces. Besides the classic A type USB ports we have also a rectangular B type port to plug-in a computer, digital S/PDIF input (accepting signals up to 24/96) and a possibility to enhance the unit with Ethernet connectivity, supporting NAS (Network Access Storage), external storage drives. Inside there is a slot for a SD card, supporting capacities over 4GB. We can choose between the available inputs using small buttons on the front panel or wireless remote. I did not use the SD card, as it supports only MP3 files. It is uploaded via the mentioned USB port for plugging in the computer. I think, that this is a waste of time and space. I would understand it, when there would be a capability to install many cards, what could mean lots of storage space, when using 64GB cards. But those would need to be compatible with all types of files, not only MP3. Because the DSS plays the following files: FLAC, WAV, Apple Lossless (ALAC), ACC, MP3. The first ones are supported up to 24/192, WAV only to 24/96. In the manual and on the web page we find the information, that the unit supports also WMA, files, but this is not the case, at least currently. I asked Maurizio about that, and he answered as follows:
"DSS plays all kinds of audio files except for WMA (Windows Media Audio), because we wait for formal authorization from Microsoft – WMA is patented by that company, and can only be used directly with Microsoft operating systems. DSS, as you probably know, is based on Linux, which is much better, because it is open and easy to upgrade. We can write software we want, without looking at Microsoft. But in that case WMA needs authorization from Microsoft. And I am not sure, that this is a good idea."
A very important information is related with a possibility of upgrading the unit's firmware – on the Blacknote page new versions are often published (I tested version 3.5), that can easily be upgraded using a pendrive. It is very simple and a way of being safe for the future.
Files are available from two sources: we can rip our discs with available software (for example Exact Audio Copy) to our hard disk, and then transfer it to a mobile disc. We can also download them from Internet. In my case, hunting on the Linn Records portal, was very fruitful, I managed to clog my hard disk with 24/96 and even 24/192 FLAC files.
So the DSS 30 is a file player. It is also a DAC, accepting 24/96 signals. It is also a transport – we can output a S/PDIF signal up to 24/192 (!). There are more and more DACs available, which accept such signals on their S/PDIF input using a single coaxial cable, so this information is important.
Handling the player is simple, but my biggest complaint is related to this. After choosing a source, for example a pendrive, the display shows the name of the first file on the source. We can access others by pressing "Skip". This works, but only when we have only a few files on our drive. On a 1TB hard disk we will have so many files, that without knowing exactly where we are it is impossible to navigate. I cannot imagine 100 clicks to get to one or another file. Theoretically we can do that using the numeric keypad on the remote, but we would need to know the numbers of files in each folder – and this is simply not possible. So the display must be much bigger, so that we could see many file names at once, to not get lost. Now it is like going to a library, where we can read anything we want, but on the condition, that we will search for what we want to read looking at the books one after another, without having a chance of looking at their backs. And one more thing – the HDX from Naim allows for displaying disc covers. This is maybe nothing, but it is an important part of the whole, and I missed that in the Blacknote.
A selection of discs used for testing:
Bill Evans, You Must Believe In Spring, Warner Bros./Warner Music Japan, WPCR-13176, CD.
Christian Willisohn, Hold On, Stockfisch, SFR 357.4038.2, SACD/CD; review HERE.
Danielsson/Dell/Landgren, Salzau Music On The Water, ACT Music+Vision, ACT 9445-2, CD; review HERE.
Derek And The Dominos, The Layla Sessions. 20th Anniversary Edition, Polydor/Universal Music Japan, UICY-93958/60, 3 x SHM-CD.
G. F. Handel, Acis&Galatea, Dunedin Consort&Players, Linn Records, CKD 319, 2 x SACD/CD; review HERE; także w wersji FLAC 24/88,2.
G.F. Handel, Oratorios. Saul & Messiah, Harmonia Mundi, HMX 2908280.83, 4 x CD; review HERE.
Kenny Burrell, Soul Call, Prestige/JVC, JVCXR-0210-2, XRCD2.
Handel, Messiah, Dunedin Consort & Players, Linn Records, CKH 312, 3 x 180 g LP; także w wersji FLAC 24/88,2.
Geminiani, Sonatas for Violoncello & Basso Continuo, Alison McGillivray, Linn Records, CKD 251, FLAC 24/96.
Handel Operatic Arias, Emma Bell, Linn Records, CKD 252, FLAC 24/96.
Pink Floyd, London 1966/1967 EP, Highnote, PUC66, FLAC 16/44,1.
Ben Heit Quartet, Magnetism, ACOUSENCE records, ACO80108, FLAC 24/192.
Lars Danielsson, Mélange Bleu, ACT Music+Vision, ACT 9604-2, CD; review HERE.
Patricia Barber, Companion, Premonition/Mobile Fidelity, UDSACD 2023, SACD/CD.
Frank Sinatra, My Cole Porter, Capitol. Pickwick Series, SPC-3463, LP.
Madeleine Peyroux, Careless Love, Rounder/Mobile Fidelity, MSFL 1-284, 180 g LP; review HERE.
Mel Tormé, Oh, You Beautiful Doll, Past Perfect/The Trumpets of Jericho, 904333-980, 180 g LP.
Paul Desmond, Summertime, CTI/A&M Records//Speakers Corner, A&M SP 3015, 180 g LP.

SOUND
Like I mentioned, you have to get used to using a file player. After a month with the DSS 30 I must say, that this is probably the future of audio. For us, meaning those, who own big collection of discs in physical form, this might be a difficult decision, but probably an inevitable one. Because there are a few issues, that anyone wanting best possible music playback, must face. All of them are related to the fact, that the optical drive is the weakest link of an audio chain. No doubts about that. I made a small experiment. I copied some discs to a pendrive (using EAC) and coded them in FLAC or WAV. And then I played the same discs with the Cyrus CD Xt SE drive using the DSS 30 as a DAC. So I could compare two files: one on the disc, and the other ripped from the same disc on my laptop. First I thought, that I am making some error somewhere, there is a faulty connection, or similar, because every time sound from the pendrive was warmer and more saturated than that from the transport. The situation of the latter was slightly bettered by attaching the external PSX-R power supply, but this was not a structural sound – it was the same sound, only slightly better. The pendrive had a different sound signature – much closer to vinyl. This was clearly audible when I compared the sound of Haendel Messiah from vinyl and pendrive – this was a slightly softer, but in a positive way, more saturated sound than from CD.
This is one thing. The other is related to hi-res files. Let us say from the beginning, that the resolution is only a part of success. Another part is also the fact, if the device can show those differences. Until now, this was not always the case. DSS 30 shows with ease and grace the superiority of a digital master tape above that, what we get from CD. Vividness of the recordings changes. It is incredible, how absolutely "analog" digital recordings can sound. I heard this before in a recording studio, where we recorded material in 24/96, but I never witnessed that at home, even with the best DVD-Audio players. SACD emulated that sound to a big extent, mostly due to the smooth treble, related to high noise outside of the audio band (this is a birth defect of DSD). Here we have splendid resolution, but not in the form of "detailness", because this does not jump in the eye, but rather as naturalness. Speed and insight into the recording are phenomenal, sometimes this may not be liked. Because now we have the way the recording was done exactly in front of us, how the microphones were positioned, etc. And close positioned mikes will result in close sound. With the CD (except for the best players) this is masked in a certain way, "tamed". Here we have nothing between us and the microphone, this is why it becomes the weakest point of the chain.
DSS 30 is also very competent as a DAC. This is just a very good level among DACs from around 10000zl, and this alone puts it in a very good point. Its sound is very open, with a worked out treble and strong midrange. A slight "touch" of the tube is audible rather in a positive way, as a broad harmonic structure, fluent and smooth. The voices are placed rather close, closer than from my Lektor Prime. The stage is deep and nicely defined. The only problem we have to face is, the not fully controlled, lower bass. With classical music we can hear this as a slight elongation of the sound of the contrabass, slightly behind the rest of the instruments, with rock it is a not fully coherent and rhythmical sound of the bass guitar and bass drum. This is not a big problem, but with the splendid sound of the midrange and treble, it is audible enough, to have us make the 'go – no go' decision ourselves. The bass is also reaching far down, this is actually very desirable. The mid bass is slightly stronger than the rest of the range – this results in for example the contrabass sounding stronger – that was the case with the Oscar Peterson disc We Get Request. This means, that the sound is slightly bigger than from reference players, and more nasal. This "nasality" does not translate into the clarity of the vocals, they retain their tonal balance. They are bigger, but without problems, usually associated with such cases, without nasality. Here we have a warming of the lower midrange and expansion of the virtual sources that appear in that range. One disc that profited from this was Amnesiac Radiohead, which lost its incredible lightness and openness. A big role is left for the rest of the system, which should be open and not too heavy on the bass. The resolution of the device is very good, as I mentioned earlier, because the assets of hi-res recordings are clearly audible. This is not a slight improvement, but rather like a switch from hi-fi to hi-end.
CONCLUSION
DSS 30 is a very technologically advanced device – a file player (including hi-res), a DAC, a transport. On one hand very easy to handle, and you do not need to stretch yourself too much to play a disc. But its user interface is not very ergonomic, with small buttons and display, what impairs the accessibility of the files. The sound is very good, although the light weight put on the medium bass can influence the tonal balance of the whole system. The midrange and treble are incredibly refined, for the given money, because they have good definition and resolution. With 24/96 files we get an incredibly vivid and open sound, with which, CDs of above 20000zl will have a hard time to compete. The best CD players sound better with Compact Discs than the DSS 30 with the hi-res files, but not in all aspects. The "release" and "freedom" of the sounds coded with high resolution are phenomenal and not disputed. This is not the level of Linn Klimax DS, for as much as I can recall its sound from memory (and I downloaded the same files that were played in Munich), but it is really good. Some things still wait for explanation, like differences in sound between different hard discs (for me Seagate discs were better), differences in sound between different pendrives (really!) and the influence of the drive in the computer used to rip the discs on the sound. Those are variables, that are not fully under control. A problem for me is also the lack of a (legal) way to rip DVD-Audio or Blu-Ray discs – those are high resolution files. This complicates the situation. But in my opinion, and I am convinced of that, this is the future of audio.
DESCRIPTION
DSS 30 from the Italian company Blacknote is a solid state memory player, called 'Digital Static Source' by the company. It looks like hi-end DACs, but the somewhat different role is signaled by two USB 2.0 sockets on the front panel and a small LCD display. The latter is blue lit, with white characters, different than the one depicted on the photos placed in the company web page. On the sides of the display there are six buttons used to operate the unit: 'start', 'pause' and 'enter' in one button, return (like in MP3 players and DVDs), skip backwards (within a disc, as well as between discs; I am talking about the files and folders representing those, but I will keep the traditional nomenclature), skip forward, stop and stand-by. Sometimes it is necessary to reset the player – this is done by unplugging it from mains. We can do this with a mechanical power switch on the back panel. The front panel is made from a thick piece of aluminum anodized black. The buttons are very small, and we have to get used to operating them. Those are repeated on the remote, which has also a numeric keypad. It is a pity, that there is no remote that could display the file list, covers, etc – then we could forgo of the small display on the unit.
The back plate is very crowded. We have two USB 2.0 inputs, a PC USB input, digital S/PDIF input (up to 24/192 !), digital output (24/96), a RS 232 port and an Ethernet port, to attach the DSS to a computer network. The device is fully balanced, so we have RCA and XLR analog outputs. And of course an IEC power socket and a mechanical power switch.
The enclosure is made from thick steel plates. On the top we see cooling slots – because the tested unit contained two vacuum tubes. The circuits inside are split between many PCBs. Closest to the front panel are two of them atop of each other. On top we have the PCB controlling the USB and Ethernet inputs, obviously licensed in. There is a CrystalLan chip for LAN functions and a DSP chip for decoding files. Below that one, there is a PCB prepared by Akamai, Blacknote's parent company. The digital receiver and the DAC AKM 4396 are placed there. This is a splendid multi-bit delta-sigma chip, called "Miracle DAC" (used for example in the SlimDevices Transporter), having a very high dynamics of 120dB. The PCB has a space for a second similar chip – maybe this is reserved for the DSS 35? To isolate the DAC from the digital chips before it in the path, on the PCB we find splendid chips from Analog Devices ADUM1401, employing the iCoupler separation technology, being an equivalent of optical coupling. After the converter, in the I/V section, we have two ICs from Burr-Brown, the OPA2226, and then one more in the buffer section. On the output there are also buffers from the DIR series. From there, with shielded cables, the signal goes to the output section. This is a section employing ECC88 tubes, one per channel, with separate power supply. We have there also a lot of significantly sized capacitors and the tubes – very good CVC Premium Valves. Those are coupled with the outside world by polypropylene capacitors Jantzen Audio Cross-Cap with the capacitance of 2.2µF per branch. The power supply uses a small EI transformer and Shotky diodes for the anode. Also the heater voltage is rectified. Lets add, that the digital output is buffered in a coupling transformer, which guarantees 75Ω output impedance. Next to it we see a PCB with the power supply for the digital part, with two transformers and a few rectifiers.
In the audio section, after the converters, we see the metalized, precise resistors and polypropylene capacitors. The big amount of cable connections is worrying – this always generates lots of noise. Also the memory card is not visible – it must be mounted as an optional component.
Technical data (according to manufacturer):
Frequency range
20 Hz – 20 kHz (+/- 0.3dB)
THD (Total Harmonic Distortion)
0.05% max.
S/N ratio
90 dB
Dynamics
125dB
Analog output
stereo RCA and XLR
Digital output
coaxial S/PDIF 75 Ω/RCA
Digital inputs
coaxial S/PDIF 75 Ω/RCA
two USB 2.0 – front
two USB 2.0 – back
PC USB – back
Ethernet (LAN) – back
RS 232 – back
wireless – optional
Internal memory
SD 4 GB
Supported file types
AIF, AIFF, Apple Lossless (ALAC), WAV, FLAC, MP3, MP4, ACC
Dimensions
240 mm L x 120 mm H x 390 mm D
Weight
8,5 kg
Power consumption
50 W
BLACKNOTE DSS 30 TUBE

Price: Promotional price 11980 zl; regular 2995 euro

Distribution: Moje Audio

Contact:

Moje Audio
Powstańców Śląskich 118
53-333 Wrocław

Tel.: 071-33-65-67
Tel.: 606 276 001
Tel.: 698 960 775

e-mail: biuro@mojeaudio.pl

WWW: BLACKNOTE







CDs FROM JAPAN