KRAKOW SONIC SOCIETY
MEETING #64:

HQCD + BLU-SPEC CD







The February editorial (No 58, February 2009) talking about new, bettered methods of pressing and manufacturing Compact Discs caused an uproar of emotions. I will remind you, that it was about HQCDs – HiQuality CD, Blu-spec CD and SHM-CD – Super High Material CD. I was just after first listening sessions with all those kind of discs and I wanted to share my experience and impressions with you. As it is known, and that caused many protests, I did not fully like those solutions, and – in my opinion – more changes are brought by different issues (masters) than the mentioned technologies. But it was not an in-depth analysis, so I could not be certain. This is why I ordered from CD Japan HQCD and Blu-spec CD samplers, allowing for a direct comparison of the technology and not re-editions. Those samplers I am talking about are: HiQualityCD. Jazz Selection, issued by EMI Music Japan and Feel The Difference of the Blu-spec CD. Jazz Selection, prepared by Sony Music Japan, were made exactly for such kind of comparisons. Because those are double albums, with one disc pressed the standard way, and the other one in the new technology. Assuming, that the companies did not screw anything up during the manufacturing of the standard CD, to emphasize the assets of the promoted technology, this is the best opportunity for thorough comparative listening sessions and get an opinion. To enhance the comparison we listened to some other titles, clashing together different editions.
DISCS
We compared the following discs:

HQCD
∙ HiQualityCD. Jazz Selection, EMI Music Japan, TOCJ-90010, HQCD + CD. A double album with exactly the same pieces pressed on a standard CD and HQCD. The company declares, that this is an identical master, with the only different thing being the way the disc was manufactured. I chose the jazz sampler, as in musical terms it is closer to me – it includes among others Art Blakey, Clifford Brown, Julie London, Sonny Clark, Art Pepper, etc, but there are also rock and classical samplers available. As you can see the disc contains recordings from Capitol Records and Blue Note. The recordings are identical, but the printing on the discs is different – HQCD uses gold paint, and the CD a blue one. Both discs were pressed by Media Tech. Being a promotional recording it is not expensive – 980 Jen (available on CD Japan).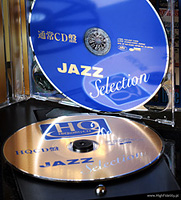 ∙ Jazzmen Detroit/Kenny Burrell, Savoy/Denon Corporation U.S.A, COCB-50301, CD.
The re-master of this disc was made by the H2/Hiroyuki Hosaka (Nippon Columbia aka Denon) in 1992, the CD version is from the same year. After the Savoy catalog was bought by Columbia everything was re-issued as HQCDs. Everything points to it being the same master, and both discs were pressed in Japan – the CD by Denon, and the HQCD by Columbia in the Media Tech pressing plant.
Blu-spec CD

∙ Feel The Difference of the Blu-spec CD. Jazz Selection, Sony Music Japan, SICP-20050-1, Blu-spec CD + CD.
This is the same story like with the HQCD sampler: two discs with exactly the same material, nicely priced, one pressed on Blu-ray machine, with more precise pits and lands, the other on a classic machine, but also in Japan. Also in this case the material and mastering are the same, it was made by Tetsua Naito (Sony Music Studios Tokyo) and again the discs have different labeling – the CD has a black one and the Blu-spec CD a… blue one. This is also a very nice sampler, with Miles Davis, Weather Report, Dave Brubeck, Thelenious Monk, Duke Ellington, etc.
∙ Miles Davis, Kind of Blue, Columbia/Legacy/Sony Music, 27105 2, Legacy Edition, 50th Anniversary DeLuxe Set, 2 x CD.
∙ Miles Davis, Kind of Blue, Columbia/Legacy/Sony Music Japan, SICP-20001, Blu-spec CD.
This is exactly the same re-master prepared for the 50th anniversary of Kind of Blue by Mark Wilder and Maria Trian. But the discs have different printing on them. We wrote about the jubilee version earlier (HERE) and it turned out to be the best digital master to date, better than the Japanese versions. The disc for comparisons was pressed in the European Union. At home I also listened to the version from the box, pressed in the USA. It is better than the European one, but the differences between the CD and BSCD pointed out during the KSS meeting were exactly the same.
∙ The Dave Brubeck Quartet, Time Out, Columbia/Sony Music Japan, SRCS-9163, Master Edition, CD.
∙ The Dave Brubeck Quartet, Time Out, Columbia/Sony Music Japan, SICP-20014, Blu-spec CD.
The CD version is from the prestigious series Master Edition, so it was made in the Super Bit Mapping technology and was issued as a mini-LP in 1992. The new version was issued in plastic. Unfortunately I cannot tell if those are the same masters, or if they are different. The Japanese insert is identical in both cases.
SESSION
Differently than in previous listening sessions we have decided, that this time we will meet in two places – first at Janusz's (look HERE) and then at Ryszard's place (look HERE). We decided for this because we did not have to carry anything heavy, and secondly because this is an issue that is interesting for all music lovers and audiophiles, regardless of the budget and audio system. This is why the doubling of listening tests in two systems, differing from each other in almost every aspect, but used for the same purpose – listening to music. The ability for quick exchange of the discs allowed for a blind AB testing (not a double blind ABX, we have tried that and in our opinion it does not allow for evaluation of music). The results of the tests were fascinating. Like I said, this was an AB comparison, where only I knew which disc is playing at a given moment. We made a rule, that for a given disc A was always the same version, as was B. With the HQCDs ad Blu-spec CD the preferences of the listeners were almost unchanged during the sessions, what points to the fact that the differences are audible. And I will say even more – the differences are really big. But the HQCDs and Blu-spec CDs were treated differently by the listeners.
HQCD

With HQCD the listeners almost split in two halves. In most cases they chose the same pressings, but pointed towards different aspects of the sound, that were sometimes in favor of one type, and sometimes for another. I will emphasize again, that no one knew which version was the CD and which the HQCD, they learned that after the test, they just pointed to A (CD) or B (HQCD). Below you can find a table with the results. Every vote in favor of a version was marked with an 'x', with an initial of the voters name next to it. So the 'x' was attributed to the version that the listeners praised most. Earlier they told what disc is playing according to them (A or B). And as they were always able to tell which it was, I assumed that their preferences were most important.
System I - Janusz
Performer:
A (CD)
B (HQCD)
I. Julie London
X (R)
X (J)
X (RS)
X (T)
X (W)

II. Chet Baker
½ X (RS)
½ X (T)
½ X (J)
½ X (W)
X (R)
½ X (RS)
½ X (T)
½ X (J)
½ X (W)

III. Art Blakey&The Jazz Messengers
½ X (RS)
½ X (R)
X (J)
X (W)
X (T)
½ X (RS)
½ X (R)

IV. Jazzmen Detroit/Kenny Burrell
½ X (T)
X (J)
X (R)
X (W)
½ X (T)
X (RS)

Total:
12 ½ X
7 ½ X
It turned out, that the HQCD discs sound in a much smoother, slightly warmer, visibly more vivid way than the CDs. Everything seemed cleaner, without any 'dust', disturbing extra-musical details, etc. The back planes were much closer than with the CD, so we had the impression that the sound is louder, and the instruments have a larger volume. The difference was so big, that the honesty of EMI Music Japan was questioned, which could prepare the masters in a way, that they would differ maximally. But we have discarded those thoughts listening to further discs – the differences were really big. And the table reveals something much more interesting – most voices were given to the CD. When somebody valued the assets of the HQCD I described, then he opted for that pressing. But not in every case. Because the CDs had bigger resolution. Without a doubt the amount of information was bigger, what translates into a much better depth of the stage, better differentiation of dynamics, etc. The sound is more 'dirty', but rather because the recordings themselves are like that. Especially the treble is better defined and worked-out here – with HQCD it sounded as if it would pass through a tube "analog maker". Interesting was the proportion of votes at Ryszard's, where we went after the first part of the listening tests:
System II - Ryszard
Performer:
A (CD)
B (HQCD)
I. Julie London
X (W)
X (RS)
X (T)
X (J)
X (R)
II. Miles Davis
X (W)
X (J)
X (RS)
X (T)
X (R)
III. Duke Ellington
X (W)
X (RS)
X (T)
X (J)
X (R)
IV. Jazzmen Detroit/Kenny Burrell
X (W)
X (RS)
X (T)
X (J)
X (R)

Total:
9 X
11 X
This situation needs to be commented upon. It can be clearly seen, that the votes were quite even on both sides of the line dividing CD from HQCD, but there was a significant change: there were no 'half votes', each vote was clear and unambiguous. In Ryszard's system, which has a stronger and deeper bass, subtle differences were less noticeable, they played a lesser role, the so called 'whole' became most important. And one more thing – while the system warmed up (it was turned on just when we came, and due to logistic reasons we had not the time to wait for it to warm up fully), the more assets were shown by the CD versions – it started with Kenny Burrell, but later it was much easier to catch.
Blu-spec CD

While with HQCD we could talk about preferences, then with Blu-spec CD the case was clear in both systems: those discs were much better than the ordinary CDs. So I humble myself – I'll remind, that the first listening sessions of this 'invention' were disappointing, and I advised caution. Maybe this was a flaw of the disc we listened to then (Weather Report Heavy Weather), maybe it was due to the fact, that it was not a rigorous comparison – I do not know. I just know I was wrong. HQCD is a novelty we can fall to, but we do not have to, while the Blu-spec CD is a must. We will have to wait for the mini-LP, but even now, this is something really improving the quality of the sound, and something, that really brings a new quality to the game. Below I will show a table from the session at Janusz's place, I will not show the results at Ryszard's, as they were identical:
System I - Janusz
Performer:
A (CD)
B (HQCD)
I. Weather Report (sampler)
X (W)
X (RS)
X (T)
X (J)
X (R)
II. Dave Brubeck (sampler)
X (RS)
X (T)
X (R)
X (J)
X (W)
III. John McLaughlin&Mahavishnu Orchestra (sampler)
X (W)
X (T)
X (J)

X (RS)
X (R)

IV. Miles Davis, Kind of Blue
X (W)
X (RS)
X (T)
X (J)
X (R)

V. Dave Brubeck, Time Out
X (T)
X (W)
X (RS)
X (J)
X (R)
Total:
5 X
20 X
Again, it is worth to notice, that the choices were unambiguous, and the differences between the versions clear – much more visible, than between a part of the classic re-masters. We split only during the recording Birds of Fire McLaughlin&Mahavishnu Orchestra, because the CD version was less clipped, seemingly clearer. But this might be a result of the sound of the Blu-spec CD: it is bigger, more saturated, more dynamic, and the bass reaches lower; the stage is also much better. In general it seems, as if there would be more sounds, but not due to brightening of the timbre, but by the increased number of details inside the boundaries set by the CD.
CONCLUSION
For such, seemingly, small changes, like a change in the material the disc is made from, and the way it was pressed, the differences between the classic CDs and HQCD and Blu-spec CD pressings are big. Those are audible in any system, even the cheapest ones, but depending on their class those can be interpreted and judged in different ways. Played on 'round', warm, smooth systems HQCD – surprisingly, as it has the same characteristics – can be liked better. Not everybody, and not always, but statistically it will be better. The more up, the more its advantage melts, and its flaws become visible. So I cannot decide, if it is worth to buy regular (Japanese only!) pressings, or HQCD. In case of the Blu-spec CD the case is clear – this is really something. It is surprising, that this idea comes from a 'major', a big company, which was engaged in high quality ventures some time ago (lets mention SBM and SACD for example), but which is now immersed in 'entertainment' and classic audio, stereo, is less and less associated with it. Congratulations!!!
System I
∙ CD player – Ancient Audio Lektor Grand SE, test HERE
∙ Power amplifier – Ancient Audio Silver Grand Mono, description HERE and HERE
∙ Stand mount speakers – Sonus faber Electa Amator (I), description HERE
∙ Interconnect – Acrolink Mexcel 7N-DA6300, description HERE
∙ Loudspeaker cable – Tara Labs Omega, description HERE
∙ Power cables: Acrolink 7N-PC9100 i Acrolink 7N-PC7100, descriptions HERE and HERE
∙ Power system – Fadel Art
System II
∙ SACD player – McIntosh MCD301
∙ Power amplifier – McIntosh MC275 (IV); review of the version Commemorative Edition HERE
∙ Interconnect XLR – Tara Labs ISM The 0.8; review HERE
∙ Loudspeaker cable – Tara Labs The 0.8
∙ Power cables Nordost Valhalla
∙ Power conditioner (only for the player) – Nordost Thor
∙ Loudspeakers – Avantgarde Acoustic Uno Nano.

Contact:

HiQuality Compact Disc
Blu-spec CD
EMI Music Japan
Sony Music Japan
CD Japan
CDs FROM JAPAN